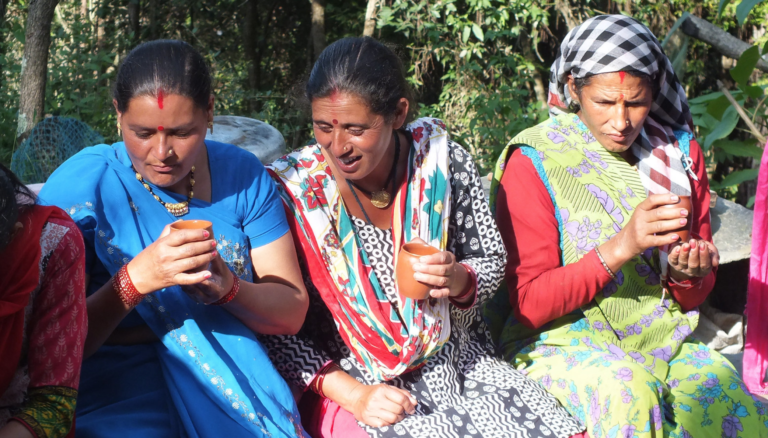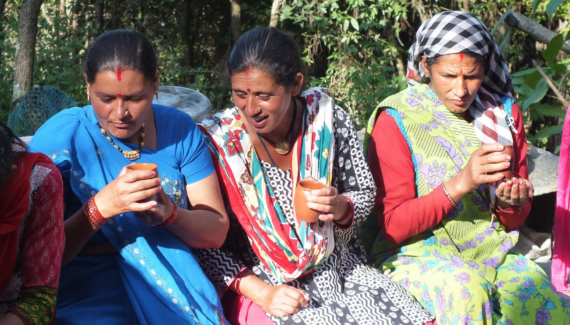 ICIMOD Mountain Prize
GREAT NEWS! The Majkhali village homestay mothers' group, the Jagrati Swayam Sahayta Group, has won the ICIMOD Mountain Prize 2020. (www.icimod.org/mountainprize)
This is a really a great honour for everyone involved. This award really rewards the tremendous effort and achievements of the women of Majkhali and can be held up as a beacon to other villages in Uttarakhand.
Building connections, sharing a sustainable way of life.
The Jagrati Swayam Sahayta Group is a women self-help group based in village of Majkhali, district Almora, Uttarakhand, India. The women organized themselves into a group in 2011 in order to collaborate with the Foundation for Contemplation of Nature, Majkhali and invite students to experience life in the village.
The idea was simple; to offer residential courses on Resilient Leadership in the Himalayas to university students from all over the world, so that students can experience first-hand how a traditional lifestyle is a holistic skillset and mindset that can inform all aspects of modern life.
Since 2011, the group and the foundation has offered more than 30 2-week long immersive courses to over 500 students from across the world. Since 2018 the course has been recognised as a semester credit course by the School of Sustainability Studies, Western Colorado University.
The course has been taken by many groups of students, mostly from the United States, including Princeton University, Pittsburgh University, Western Colorado University, Nanda Devi Outdoor Leadership School, Where There be Dragons, Realms of Inquiry, Lakeside School, and Menlo School.
Sustainable mountain development and resilience building
The place-based learning modules of the course are built on 3 pillars of sustainability: Dignity of Physical Work, Interdependence and Interconnectedness.  These pillars emphasize ways of constructing society that are in harmony with nature, community and self-cultivating inner and outer resilience.
Together with the villagers, the students have raised awareness around the issues of waste disposal, environmental health and energy efficiency, gender, education, forestry management and the benefits of an organic and zero-waste lifestyle.
Seeing the passion and engagement from the students who visit the village has given the residents a fresh perspective on the value of their natural and cultural heritage. They feel very motivated to connect with their landscape and cultural heritage and explore opportunities within the village that will ensure that their traditions and knowledge are sustained while they enrich their life and livelihoods.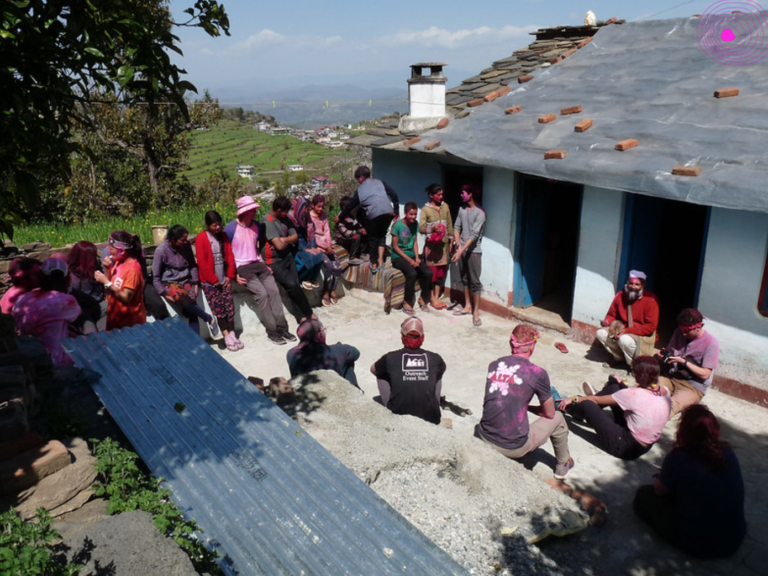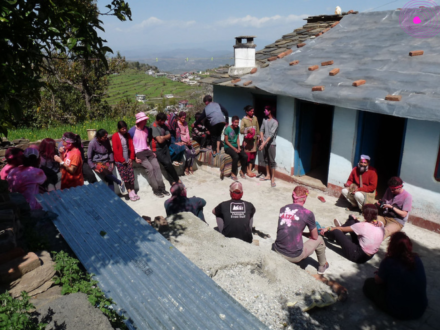 Transformative change
The program has created opportunities for women who didn't believe that they added much economic value to their household. Through the collaboration the women understand how their tremendous contribution as primary care givers and holders of traditional knowledge crossing all aspects of village life is at the core of their survival. As well as being homemakers the women are farmers, physically engaging in over 90% of all agrarian tasks.
The group has given recognition to their skills and demonstrated how their culture and food traditions are intrinsic to maintaining balance with the environment. It has increased their self-respect, empowered them to communicate their knowleddge and engage their menfolk, and demonstrated the importance of engaging women as decision makers not only in the family but in the broader regional community and society.
The visiting students have also demonstrated a transformation in their world view and attitude to life, moving from seeing rural farming families as poverty stricken, illiterate and helpless to understanding the depth of knowledge and culture in village life and its relevance for developing sustainable thinking.
It's through this cultural exchange that the students learn hands-on skills and understand the efficiency of a holistic and integrated perspective to natural resource management on one hand and the balance of emotional values and happiness through simplicity on the other.
9 households and 40 members have benefited from the project over the course of 10 years. The group has collectively earned over 20 lakh rupees enabling the women to contribute towards their children's education, their family's health and develop better housing facilities in the village.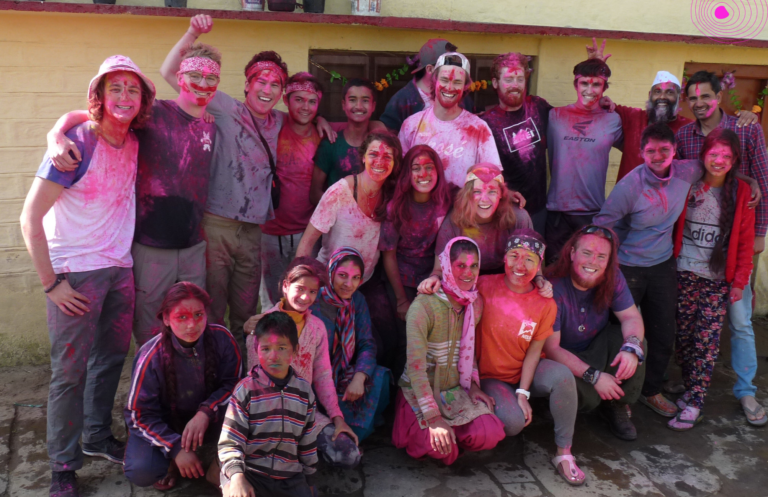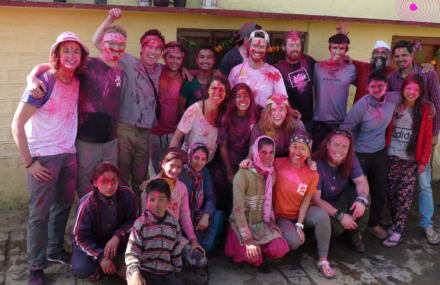 Gender and social inclusivity
The project has also raised awareness amongst local people about the importance of gender equity for the health of society moving forward. Villages in India have a deep-rooted caste system and gender bias. Women are considered inferior to men and certain castes are looked down upon. Despite holding the knowledge and effectively running village life and being responsible for the health and sustenance of the whole community, women are traditionally excluded from decision making. And this does t stop at the home, it extends to local administrations, banking, local government, and even NGOs. As well as the gender divide, dominant castes also often avoid any interaction with people from other castes, even refusing to eat food cooked by them.
This programme has broken these deep-rooted hierarchies and created an inclusive space where the students and villagers work, eat and celebrate together, irrespective of their gender, caste, religion or age. Students from the western universities challenge the local youth when the local girls are performing all the work! The villagers are slowly incorporating equality into every aspect of their lives. Men have started to see value of their women folk and even start to participate in tasks and projects connected to farming which were earlier thought to be only for women.
Through this the home stay program, the women have become financially independent and self-reliant. They have brought an additional income which usually came from men being forced to leave the village to work in the cities. They not only managed to get people from outside to take interest in their traditions and environment, but also increased awareness with the residents of Majkhali. Majkhali is now a much more inclusive, equitable and aware space. A vibrant and welcoming space.
The proof of success is in the farewells between host mums and students- not a dry eye in sight!
You can see more photos here: https://www.flickr.com/photos/188675493@N06/albums/72157715040065013
President of the Jagrati Swayam Sahayta Group: Sushila Devi
Majkhali, India
+91 9568986738
Contact for more info:
Ajay Rastogi
Director, Foundation for Contemplation of Nature
Ranikhet, India
+91 9758727196