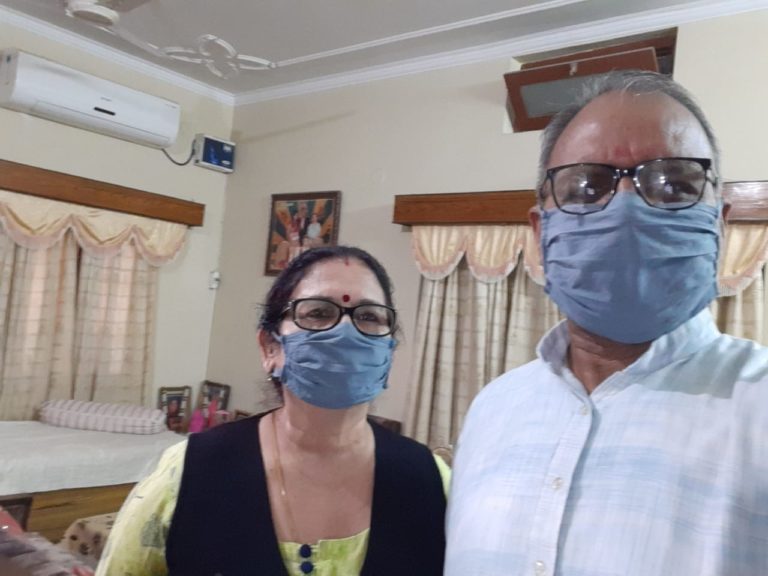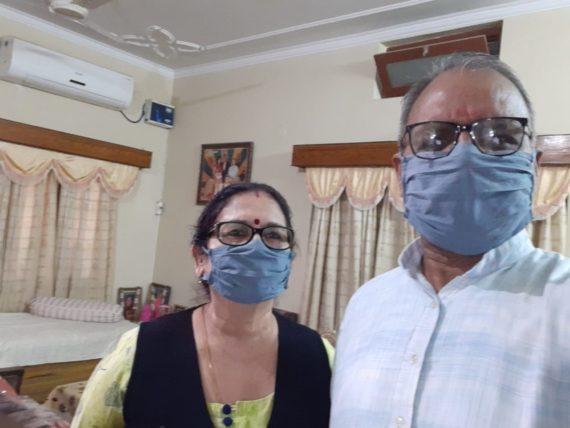 Suman and her masks
SUMAN BISHNOI and her husband Surender Kumar live in Paonta Sahib in Himachal Pradesh. Suman said that even before this pandemic struck, she had decided to try and make some masks to cope with the increasingly bad pollution. But she also had a gut feeling that things were about to get worse, and in that eventuality, that there would a shortage of masks, especially in smaller towns and amongst more rural communities.
So, Suman bought some breathable cotton, and decided to experiment making a few masks for herself and her husband. After all, even if she was wrong about an upcoming pandemic, she thought, there is no harm making masks and testing them out. Even if they are made from simple cotton, and do not filter out everything, surely, they would be some help in stopping the spread of a virus? And some help is better than no help at all. Although fabric masks are not as effective as an N95 mask they do go some way in protecting other people if you yourself have covid.  In other words – better than nothing especially if you double up.
To mask or not to mask?
Since the outbreak of the COVID-19 virus, there has been a lot of conflicting information and opinions on the masks. Perhaps some media channels were hoping to avoid a rush on masks, helping healthcare workers get access to Personal Protection Equipment they need, as they are on the front-line of fighting the virus. Now, the general consensus is that yes, masks do help stop the spread of the virus. Masks are effective at being a barrier against droplets, which is a main transmission route of coronavirus, and some studies have estimated a roughly five-fold protection versus no barrier alone.
Medical staff all over the world still urgently need professional and medical masks – there is a huge global shortage of face masks in hospitals and other healthcare institutions. All the more reason to get your sewing machine out and try sewing different types of masks for you and your household. The demand for masks is only going to grow, as the stigma of wearing a mask when you shop disappears. For young and old, masks are increasingly seen as an important part in protecting the most vulnerable and high risk in society by limiting the overall spread of the outbreak.
How to use a mask
The best fabric to choose is 100% cotton so that you aren't breathing into the plastic microfibres shed by synthetic fabrics. 100% cotton masks can also be used several times- just make sure to wash them after every use. To be safest, an N95 filter should be used in addition to the mask. Doubling up the mask also helps.
Remember, a fabric mask is just some protection and they don't protect you 100 percent. It is much better to get an N95 mask whenever possible, and a fitted N95 if you need to wear it for more than a few hours.
Masks are effective when used in combination with physical distancing- staying at least 2 metres away from people who are not in your household, even more if and when possible as the virus travels in 'clouds' and this is affected by many factors from temperature to humidity.
Suman says: "Do not forgot to wash your hands frequently with hot soapy water, and also use an alcohol-based hand sanitizer in between washes if you have it. Whatever you do, do not touch your face, especially your eyes and nose!"
It is important how you handle your mask. A good tip is to imagine that the virus is invisible glitter. Once you touch it you can transfer it to other surfaces. A mask should be removed and stored carefully until it can be washed.
Before putting on a mask, make sure that you clean your hands with alcohol-based hand rub or soap and water. Cover your mouth and nose with the mask and make sure there are no gaps between your face and the mask. Avoid touching the mask while using it; and if you do, remember to clean your hands again with alcohol-based hand rub or soap and water.
Replace the mask with a new one as soon as it is damp and do not re-use single-use masks. Do not litter!
The best is to carry a few with you if possible and keep the clean ones in a small plastic bag. Keep an empty bag for used masks if you change them when out.
To remove the mask do not touch the front of mask- just remove it from the ear loops; put it immediately in a closed bag or bucket of soapy water; wash your hands immediately with alcohol-based hand sanitizer or soap and water.
The best thing to do is put them in a bucket of soapy water as soon you get back indoors. We now know that soap kills the virus by breaking down the fat that keeps the virus whole. How water is also good- but remember the virus lives in our bodies and our normal body temperature is 37 Celsius. So the best thing to do is to boil the kettle and pour boiling water over the mask and let it soak for at least 5 minutes before washing, and then ironing with a steam iron. You can also wash your masks in the washing machine with your clothes at 60-90°c. but be sure to fill the machine up so it isn't an unnecessary burden on the environment.
We hope this inspires you to get sewing, just like Suman Bishnoi. There are many good patterns to follow online and you can even make a washable mask that can hold an N95 filter, that are much cheaper.
Stay safe says Mrs. Bishnoi!