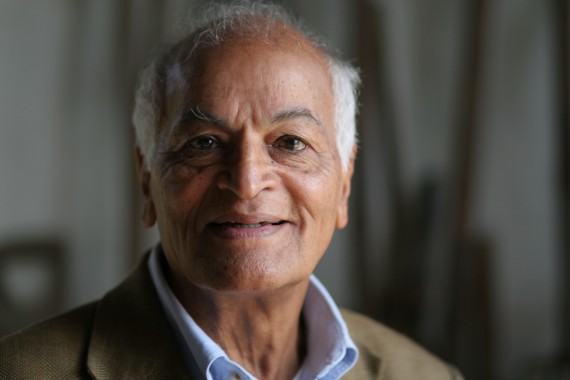 Satish Kumar, ON ACTIVISM

It really was an honour to meet Satish Kumar. He was so generous with his time, to appear on the new Nordic by Nature Podcast.
A former monk and long-term peace and environment activist, Satish Kumar has been quietly setting the Global Agenda for change for over 50 years. He was just nine when he left his family home to join the wandering Jains and 18 when he decided he could achieve more back in the world, campaigning for land reform in India and working to turn Gandhi's vision of a renewed India and a peaceful world into reality.
Inspired in his early 20s by the example of the British peace activist Bertrand Russell, Satish embarked on an 8,000-mile peace-pilgrimage together with E.P. Menon. Carrying no money and depending on the kindness and hospitality of strangers, they walked from India to America, via Moscow, London and Paris, to deliver a humble packet of 'peace tea' to the then leaders of the world's four nuclear powers.
In 1973 Satish settled in the United Kingdom taking up the post of editor of Resurgence magazine, a position he has held ever since, making him the UK's longest-serving editor of the same magazine. During this time, he has been the guiding spirit behind a number of now internationally-respected ecological and educational ventures including Schumacher College in South Devon where he is still a Visiting Fellow.
In his 50th year, Satish undertook another pilgrimage – again carrying no money.  This time, he walked 2,000 miles to the holy places of Britain, a venture he describes as a celebration of his love of life and nature. In July 2000 he was awarded an Honorary Doctorate in Education from the University of Plymouth. In July 2001, he received an Honorary Doctorate in Literature from the University of Lancaster.  And in the November of that same year, he was presented with the Jamnalal Bajaj International Award for Promoting Gandhian Values Abroad.
His autobiography, No Destination, first published by Green Books in 1978, has sold over 50,000 copies. He is also the author of You Are, Therefore I Am: A Declaration of Dependence and The Buddha and the Terrorist.
In 2005, Satish was Sue Lawley's guest on Radio 4's Desert Island Discs. In 2008, as part of BBC2's Natural World series, he presented a 50-minute documentary from Dartmoor, Earth Pilgrim, which was watched by over 3.6 million people. He also appears regularly in the media, on a range of programmes including Thought for the Day and Midweek.
Satish is on the Advisory Board of Our Future Planet, a unique online community sharing ideas for real change and in recognition of his commitment to animal welfare and compassionate living, he was recently elected vice-president with the RSPCA. He continues to teach and run workshops on reverential ecology, holistic education and voluntary 'elegant simplicity' and is a much sought-after speaker both in the UK and abroad.
Satish Kumar, Nordic by Nature Podcast, On Activism, Transcript.
Words have power only when they are practiced otherwise. Words have no power. You could say love but it has no power until you love someone you love or compassion. Word is compassion but unless you have a compassion in practice it has no power.
The power comes with practice; not 'why' but 'how' — how we implement it and the way always is from seed to tree, from small to large.
Start small, start wherever you are, the journey of a thousand miles starts with the first step. So start where ever you are, and by your authenticity, with your integrity, with your commitment, you will influence the others. So don't worry about 'how I influence others.' You will influence others. There's no way you cannot influence others, if you be the example and start, and do things what you want to do in your life and then others see it and they will be impressed, and they will follow you! This is how all big change happened. Nelson Mandela, Martin Luther King, Mahatma Gandhi, Mother Teresa — all these great people who have done.
Just start.
——————————————-
I could have had money. I did not go without money because I did not have money. But I went without money because I did not want to have money. And I said 'money will not be a help,' because when I'm walking for peace, I want to show that peace comes from trust.
If I go to Pakistan as an Indian, I meet a Pakistani. If I go as a Hindu, I meet a Muslim, or Christian, but if I trust them and I go as a human being, they are human beings. And with that trust. So, if you have money, then you go and stay in a hotel, or B&B, eat in a restaurant, buy your own things. You don't need to trust anybody. You don't need anybody, but if you don't have money then you need people to help you. What is more important people or money?
You can have money and you have no people you cannot build a movement. But if you are people… then… So money is only a kind of means to an end. Money is not the answer. If you have no money that's blessing. That's a blessing. If you have no money, just have people, make friendship, work with people. Give service to people. They will help you. They will support you.
Money may make things easy, but money does not make things authentic. People offered me money, when I was starting to walk. But Vinobha, my teacher Vinobha Bhave, he said that go without money go without. He was great teacher. So Vinobha had no money. He practiced Kanchan Mukti, money free living. So, if people say 'I have no money, say 'you are blessed!' People with lots of millions and billions of dollars and pounds, what good it is doing?
Why every single individual must own their own house? I think we have to go back to living more frugally and living with families. And when you live with the family have be more tolerant, you have to be more accepting. You have to be more kind. You have to be more compassionate. You have to be humble, because your parents will say something, your brothers will say something, your sister will say something. Why are you not doing like this? So you have to be humble…. so living in a family.
I think in the West we have too many houses, underused, big houses. One or two people living in four-bedroom houses. This is…. And then we take a mortgage, because we want individual, we want isolated. We are separate. We want on our own. Humility lacking. We can live in a community, share. Absolutely! Share.
And then if you do what you need to do. The money also will come. Money will also come. I'm not saying I'm not against money I'm not against money. Money is a useful invention. Money is useful for the means of exchange and so on. That's OK. But money is not the end. Money is only a means to an end.
What is your end? We have to always ask. What is my end? I have to always ask. Everybody has to ask what am I living for? I'm not living for money. I'm looking for something 'altruism'– something higher greater. And if I live for that people may give you money.
I did not have money for two and half years. People gave me food, people gave me clothes, people gave me shoes, people gave me even boat ticket from England to America — I went by boat. I had no money. People gave me a boat ticket. People give you everything. There is no shortage of money in the world.
There is a short of imagination, short of altruism, short of action. So money will come. Money will follow you like a shadow follows you. That's what this is happens. You are not the shadow. The shadow is yours, but you are not of the shadow. So, money is a useful thing but don't work for money. Don't live for money. Money is money will be added do you do something bigger and greater, and more wonderful and more imaginative.
——————————————-
The economy, traditional economy, has a very good, classic economy, when you study economics, it has a very good system. They say that three things you need for the economy. First, land, or nature. That's a first. If you had no land, no forests, what's the point? You can't live.
Then second is labour; land, labour, capital. So, second is labour. Labour means people. And if people are true capital. Their imagination, their skills, they can build a house. They can make furniture. They can do things, they can… Their skills. The people are the capital. Nature is capital, people are capital, then money. Money facilitates, money is good at the third level, but if you put money at the top and put people and nature at the service of money and capital, then economics is skewed.
So, what you need is you need nature capital first. human capital second, because humans are nature. We are nature. We are made of earth, air, fire, water and, and basic elements. So nature is out there, in nature. We are also nature. Human skills, community, cooperation. As you said and imagination and the skills. Making things. Building a house. Building furniture. Making things. We've lost that. And this is why we become slaves of money.
I have two hands. This is the source of my income. My two hands can build a house, my two hands can grow food. I can eat. My two hands can make a jacket I can wear. My two hands can make a shoe, pair of shoes, I can wear. My two hands are the real money, and then when I make something, I can give it to you, and you can give me some money, but if I don't make something then I make myself a slave of somebody and I do something but I'm told to do but I want it or not.
And so money, working for money, is a guarantee of enslavement. You'll become a slave because you are working for money. So, money comes only third. Land, labour, capital. At the moment we have put capital at the top, and humans are servants of capital, and the nature is servants of Capital.
Equity requires social justice doesn't it? And so, we have to work to create equity and social justice, so that everybody…. I call it Elegant Simplicity. Elegant simplicity. Because if you live Elegant Simplicity, that is a prerequisite for sustainability, because at the moment we make …make… make so much stuff and clutter our houses, and our hotels, and our buildings, and so on. It all comes from nature. We are turning nature into stuff, clutter.
And so for sustainability simplicity is prerequisite. Then for spirituality, for being contented and happy, we need a few things, because if you want lots of things, that you have to work hard, to make money then you have to work hard to buy. They have to work hard to look after them. It's all time wasted in external things.
So, for your inner peace, you need a few things, you need good things; good food, good clothes, good furniture good something, but minimum – minimalism, basic. Enough is enough. Then it's a spiritual, and then equity, social justice. If a few people have too much, others have too little. So, without equity without, social justice, economy is no good.
Economy must be accompanied with equity.
——————————————-
Elegant Simplicity means less stuff, less clutter; production not for profit, but production for need. Only purpose for production should be to meet the real, genuine need. Rather than equality I like the word equity, you said. Equity means we all have a stake in it. In the economy we all have a stake in our life. We have more… sort of we all share. Equality is a little bit sort of… like five fingers are not equal. They just some small. The thumb a small. This is big and they still work together.
So equity. They all have their share. They all have their function. They all support each other. Cooperate, collaborate, work together to hold– if I want to hold the glass, all the fingers were equal will not be right, but my thumb needs to be with a smaller but larger, so it can hold the glass and, and, etc.
So, I would say your word 'equity' is a more appropriate word, and if you have equity, than equality would be an automatic. More or less everybody would meet their need. Somebody can eat more, somebody can eat a bit less, doesn't matter. Somebody can have a slightly bigger body, somebody can have a smaller body, somebody can have a bit… Doesn't it matter, as long as everybody feel part of it.
Equity is there, everybody feel 'I am part of it.' So even a small child is a part of the family. Even an old person of that not the same age, but they have a share. They have equity in the family. So, I prefer the word equity to equality. I mean equality is good. But equality is not, not as, um, kind of neutral and as the kind of idealistic as equity. In the family, not everyone is equal, but everybody has a stake in the family, and family is a good model. But they all have harmony and equity, I think. Equal rights. Yeah. Everybody had a dignity. Everybody equally respected. No ownership, just relationship.
——————————————-
Recently I was coming to London and I was at the train station and there was somebody cleaning and sweeping the floor and cleaning and keeping the station very neat and beautiful. And I went to him and I said thank you for cleaning our station, without you keeping this in such a nice way we wouldn't be so happy, there would be clutter and dirt and dust and so on. Thank you very much. I said this to this person and he was surprised.
"Nobody thanked me like that. Thank you. I'm glad you noticed that I'm cleaning."
People don't thank people who are cleaning your station, but without them cleaning, your station would be so awful hopefully you won't enjoy being there. So, they are as important as the station master, or the person who to show you the ticket, or the person who is driving the train, or person who is managing the train. If the cleaner was not there, station will not be good.
——————————————-
If you have a proper Craftsmanship and if you make something really by hand, as a craftsman, machine can never make as beautiful, and as perfect tool, as human hands can make. So let's promote craftsmanship and interdependence together.
Don't be a consumer, be a maker. A human being is not a consumer. He's a maker. We are all makers we can make something. The moment you say you are a consumer, you are putting the dignity of humanity down.
I'm not a consumer. I refuse to be called a consumer. I'm a maker. I make something. I make books. I make a garden. I make kitchen. I make good food, I make things. I'm a maker. And when I made something I eat it. When I grew food, I eat it. I made clothes I wear it. Consuming is a by-product. Not of consuming — it's living you are not a consumer. Don't be a consumer be a maker, and you can learn to be a maker. You've got two hands. Your hands are miracle.
At the universities, they are being told that the only way to progress is industrialisation, urbanisation, consumerism, economic growth, all these paradigm, and they are being brainwashed for five years. Day after day after day.
I think your 3 principles of Dignity of Labour, Interdependence and Interconnectivity are fundamental. Now the corporations and corporate world is becoming aware of the issues, and that's a good opening.
Sweden is a good place to start. Because Sweden… it was Sweden, Stockholm where the first environment conference took place in 1972, and I was there– the first U.N. conference on the environment, and that's where the limits to growth blueprint for survival; many, many things were launched there, I was speaking there in the forum, and I was invited by the government of Sweden. And so even in '72 they were becoming avantgarde. That's amazing. Sweden as I said, a lot of awareness, and lots of people are doing very good work there. And it's one of the pioneer countries….
It's very important for people to be the change then communicate the change and then organise the change. First of all, I want to congratulate all those activists on the front line.
You are the champions and the leaders of today and tomorrow, and what you are doing is courageous and you are not being self-centred, but you are doing something for the planet Earth and for the whole of humanity. And if we do not take a new direction of sustainability, and resilience, then our future is in jeopardy. And therefore, I want to congratulate and say that what you are doing is absolutely wonderful. It is on the lines of Mahatma Gandhi, Martin Luther King, and Nelson Mandela, Wangari Maathai – many, many great women and men have taken such courageous path to stand up for their values and speak the truth to power. And that is what you are doing. And so, I want to support you wholeheartedly.
And what I always say is are three steps towards transformation and change. The first step is Be the Change that you want to see in the world. Second step is: Communicate the change, through poetry, through writing, through books, through plays, through theatre, through music, through demonstrating, through whatever you are doing. Communicate so that other people become aware of it, and then organise the change.
And that's in a way what, many, many marches and many, many demonstrations are doing. They are, and you are doing that, so that's wonderful. So be the change. Communicate the change effectively and organise the change. Then change is coming. Transformation is on it's way
And we will be there.
END