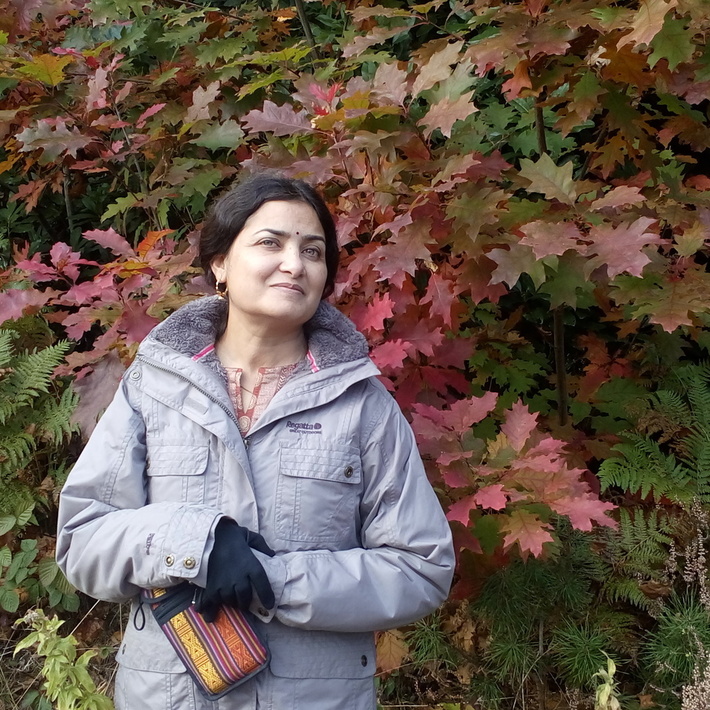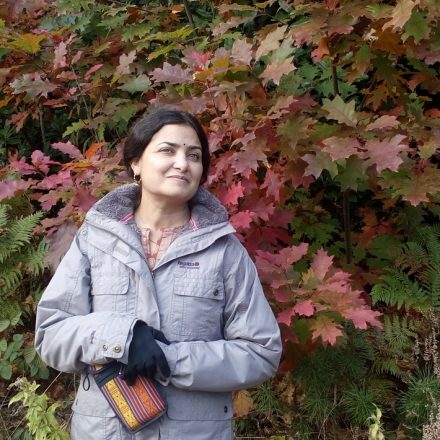 Reetu Sogani appears on the Nordic by Nature episode ON KNOWLEDGE, together with Ajay Rastogi and Nadia Bergmani.
Listen here.
Reetu Sogani is a women's rights activist, working on protection, strengthening and enhancing of Cultural and Biological diversity, its integration to address Food and Nutrition Security and building Climate Resilience, with gender and social inclusion perspective, in the remote areas of Himalayas as well as other parts of India. She has dedicated over 20 years of her life, working very closely with women and marginalised groups, using participatory and rights -based perspective on community-centric protection and strengthening of cultural and biological diversity, sustainable livelihoods and transformed gender-based outcomes on ownership and management of natural resources.
In 2013, Reetu addressed the International Women's Earth and Climate Summit in New York as one of the 100 women global leaders from across the world — because of her work with grass roots communities, building awareness levels and capacities for a stronger foundation of local knowledge systems and practices, across the Middle Himalayan ranges and beyond, whilst supporting local organisations, net-working and lobbying for policy changes on the issue of Food and Nutrition Security, Climate Change and Sustainable Livelihoods, integrating People's knowledge.
She also works as an advisor expert with various International and National organisations such as IDS (Institute of Development Studies, Sussex),Overseas Development Institute (ODI), CDKN, PAC (Practical Action Consulting) ,International Development Research Centre (IDRC), DFID(Department for International Development, IIED, ACTION AID, Government of India and state governments on these issues.
She has been nominated as a Resource Person with UGC (University Grants Commission- It is a statutory body set up by the Indian Union government responsible for coordination, determination and maintenance of standards of higher education in India)- Human Resource Development Centre, and as a member of the Advisory committee of Women's studies centre.
In a recent interview with the IIED or International Institute for Environment and Development, Reetu Sogani describes the special bond between women in India and the country's natural resources – a connection that positions them as key preservers and managers of biodiversity. Despite this, women's voices often go unheard in policies intended to support biodiversity conservation.
Reetu is also the Honorary Program Director of Chintan International Trust—as well as a development practitioner, researcher and advisor on gender, traditional knowledge, food and nutrition security and climate change in the Middle Himalayan ranges of India.
She has been working in this remote region for the past 15 years, focusing on the issue of people's rights to their own resources, knowledge systems and protection of cultural and biological diversity. Using a gender-, participatory- and rights-based approach, Sogani works to mainstream knowledge and rights into policies and programs of governance, particularly as they relate to climate change and community food and nutrition security, in close partnership with women and Indigenous communities at the grassroots level
Above: A 20 minute film (forest and seeds) has been made by organisation Fondazione Feltrinelli (2015) on the achievements of women leaders in the regions I have been  working with since 2000 on Gender, Natural resource management and food security. It is being shown on various international forums including EXPO ITALY 2015.
Above: The above film from 2015 was made by CDKN, on "Women and Climate Change" It spotlights some of the women groups with whom Reetu has worked with since 2001 on the issue of forestry and sustainable agriculture, and food security. This work has received national recognition and acknowledgement.
Reetu's work with women's groups continues to gain local and international press coverage:
The Hindi Business Online  wrote about women leaders helping women farmers grow local crops using sustainable agri practices.
Transcript of Podcast Interview.
REETU SOGANI
REETU INTRO.
My name is Rita Sogani, and I have been living in the in the hills in the State of Uttarakhand in India, for the last 20 years, and have been working very closely with the grassroots community, especially women and that marginalised community on the issue of traditional knowledge systems and practices.
The work primarily is about how to protect and conserve the traditional knowledge systems and practices which exist in the area of agriculture, forest, water, natural resources. How to strengthen the knowledge system, and how to promote the knowledge system as one of the important base of livelihood of people here.

ON TRADITIONAL KNOWLEDGE
When we talk of traditional knowledge, then what we mean is the knowledge that people have been accumulating, have been experiencing, have been observing, for centuries together, actually.
It's an oral tradition, you know, which has been handed down the generation, from the one generation to another orally. It's not documented. It's not coded.
For example, how to grow or agriculture, in very hilly area which is around 1500 meters or 1500 meters to 1700 meters. The kind of soil that we have here how to use that soil in growing different kind of crops, how to manage the forest sustainably, but at the same time also use it in such a way that we have it for the generations later on.
That knowledge that people have, is something that they have a have heard their parents or grandparents speak about.
In other words, it's just common sense.
REETU ON GENDER ROLES
When I started working the hills in 1998, I had absolutely no idea of what the situation is as far as the local knowledge in the hills is concerned.
I had no idea how it is connected with women and men.
It's the women actually in the hills who have been very closely connected with the natural resources, be it forest, be it agricultural, be livestock management, be it even health related practices, governed by food items and herbs.
The roles and responsibilities of women are such that they stay in the house, and they carry out all the activities close to the house, you know, which are connected with natural resources. So, agriculture in the hills is not just connected with land, or is not just connected, you know, with growing crops. It's very closely connected with forest, very closely connected with of course water, very closely connected with livestock.
So, she is the one who is very closely connected with all these sectors, and she is the one who is interacting with them on day to day basis.
She knows what grows where, what leaf should be used if the goat actually has indigestion. Or how the compost is prepared, and how those leaves can be used for the preparation of compost.
So, she is the one who has been interacting with all these ideas, and so she has the knowledge, and she has the skill; first-hand knowledge and first-hand knowledge systems and practices in these sectors.
ROLE OF MEN
Men definitely they are also contributing in agriculture but only in couple of activities. But of course this is a general picture but men mostly prefer to work outside in the villages, or outside, they migrate to the towns or sometimes they migrate to the main towns like Delhi, Bombay and other places, to bring in money.
In fact, the hill economy is also called the money order economy, where the money actually comes in through this money order or through the check, and many people in the hills have also joined the army.
So, it's the women who has been associated with agriculture and related areas.
One of the research institutions came out with this figure of 98.5 percent, 98.5 percent of the work relating to agriculture is being carried out by women.
REETU ON WOMENS VIEW OF HEALTH
I ask this question from one of the women as to 'how do you describe health? The word health'
She gave me such a beautiful and different answer.
She said: The animal that you see is still important for health. The kind of crop that we are growing and the methods we are using. That is also connected to the water that we are using. That is also connected with health, what I'm eating and how I'm eating is also connected with my emotional health.
She said, it's so difficult to describe because all the things around me, are contributing to health, and the air that I'm breathing in, you know, that is also part of health. The forest is responsible. The trees are responsible.
So, she described health in such an integrated and holistic way. That was my first lesson actually.
I mean, if you asked this question from any doctor or any person in the urban area, he or she would say health is the absence of illness. 'I don't have any illness.' How compartmentalised our approach has become, you know in comparison to how people think.
REETU ON CHANGE

And when it comes to women we have to work at various levels. It's not just at the grassroots level but we have to work at various policymaking levels. Even the grassroots level is very important there, women are not able to make their voices heard even in the local self-governance bodies.
Because of the kind of roles and responsibilities they have they don't have time, they're not supposed to be seen in those decision-making forums and processes, because they believe that they're not supposed to be here. They're supposed to be doing their household chores.
So that kind of mindset actually has to change, and gender sensitisation has to come about at all levels. Also, at the household level. It's not something that is very easy, but it's happening now.
Last year we had a meeting at the state level, in which we had invited the government officials, of not just our state but of the nearby states also, and there were several organisations, Forest department was also there, Agriculture Department was also there- I was so happy to see Parvati who is a wonderful farmer, extremely knowledgeable, spokesperson of our forest Committee, standing there in front of everybody and telling people 'we want traditional crops we will grow really traditional crops, we will not use any of the chemical fertilisers that you  people from promoting because of these, these and these reasons.

REETU ON WOMEN FARMERS  LAND RIGHTS

One of the other issues which I have not mentioned actually right now, but which is very closely connected to the women farmers; they are doing the majority of the work related to farming, they are actually not known as farmers. They're not recognised legally, administratively and even socially as farmers, simply because they don't have land in their name.
It's really sad. It's very deeply sad and very ironical I would say.
If you take into consideration Nepal, India, and Thailand, not even 17 percent of the total landholdings actually belong to women. And these are the areas where women contribute maximum to the agricultural economy.
There is still such a tough battle going, on because the land does not get inherited by women. But it has very serious implications on her work, on her capabilities, or no capacity building, on his skills.
Because she is not recognised as farmers, it's only men who are being invited to the workshops by the government, by any other organisation. Women don't have access to credit. They don't have access to the government.
The first thing they ask for is to have the land title in your name, and with increasing migration, and reduced access to resources, the condition of the women has actually worsened over the years, I would say.
We have a big network. This is called Mahela dichotomous that is 'women farmers rights'. And we are doing everything possible to influence the government, to change the land inheritance rules to include women, which will take many, many years because land is a very important source of power.
But at the same time at least I recognise them as cultivators. At least recognise them as cultivators — at least give them the right to be able to access the bank, and access the credit, whenever they want to.… to access the government, the schemes, the government schemes should not be asking only for the land titles but they should be asking the name of the cultivator. I think it's very much possible.
This is making the life of the woman very difficult and it has made the situation worse actually over the years because with the decision making vested in absent men, it becomes so difficult to make good important decisions at the right time.
Work relating to agriculture continues to be done by women, but without any decision making it becomes difficult for her, you know, to carry it on for her. Pretty frustrating, very frustrating.
EXAMPLE OF ADMINISTRATION FAILURE
One of the women from our area she had gone to the bank and she was just filling up one form. I think she was opening an account and there was this column that said what is your profession?
She wrote farmer, and the bank officials refused to accept it. He said "You are not a farmer, you are a housewife."
She had the understanding, she had the business, and also some confidence when she was with other women also there. She said: "I'm a farmer, you have to put down my name because I'm the farmer, I'm the one who is tilling the land, I'm the one who is cutting, I'm the one who is weeding, I'm the one who is harvesting, how can you not call me a farmer. I will not delete the word farmer.
I will continue to use the word farmer. He had to accept it. He did accept it! She was only opening a bank account.
The gender sensitisation hasn't taken place at that level. So that's why I'm saying administratively she is not recognised as farmers.

She is still considered to be somebody who is carrying out only the household chores. Her unpaid work; be productive, or be reproductive, or be it caring responsibility, is not being recognised, it is not visible is not being acknowledged.
Here, widows get the right to land title, once their husbands pass away, you know. Parvati also mentioned this in that meeting, in the keynote speaker speech. She said "As long as a husband alive, you know, we have no right over land. Only when he dies, when he passes away, only then we are allowed to have the right over land."
It hit them really hard. Even the rule which is in favour of them in an actual reality they're not recognised not just legally but also administratively. It's the structural change you need to bring about. It's just that it is the system which responsible for this state of affairs. It is connected to globalisation.
REETU ON FILM BY CDKN
The biggest NGO working globally. On climate change. [00:11:23] Climate Development Knowledge Network, made a film on these women who are part of our group, and the title of the film I think is 'Missing Women in Decision Making' and these very women video recorded themselves, as to what they're doing, how they're doing, how it is connected with climate change, how it is actually helping them mitigate, how it is helping them adapt themselves.
Women with me have gone to Malaysia and in Malaysia they have spoken about these very things, they have shared their experiences their opinion their needs, their priorities, everything.
We have settled myopic way of looking at things, interconnectedness with nature.
This is what interconnectedness is.
I mean it's not about just interdependence it's also about cooperation. People are interdependent. But more than interdependence there is this cooperation, amongst these then villages of the micro watershed around these sectors.
Traditional knowledge is not just about technique. It's not just about practices. It's about a very integrated interconnected interdependent system you know, which runs through people's cooperation, which again actually is on the decline.
The social cohesion, the value for the simplicity, you know, the value of the equilibrium all these values, they were very, very integral part of our traditional system, or way of life. And all of these values they make people more resilient. Social cohesion was such an important aspect of people's lives fiscally those were more modern life like for example.
Diversifying Crops
We have a practice in the hills called Palta, P A L T A (spells it out) — which means that people contribute in each's labour.
People from not just my household, would contribute, but people from the other households in my village, would contribute, as well as from other villages also.
And the same would happen, I would go and contribute, my whole day, the entire day you know. In carrying out that activity. And this would help mostly those people single women. Women whose husbands or who's the men folks have migrated, but they're not… they're not…there. And the elderly couple households.
So social resilience and social cohesion and all these values actually increase people's resilience. But unfortunately, that kind of agriculture that we are following now makes people very individualistic.
WHAT WE NEED TO DO
I think one of the important things that we have to do is do to have our resources to have belief in our resources, and to strengthen the existing biological diversity, and the cultural diversity, whatever little remains of it.
It's not that it's impossible because I worked in certain areas in the hills for the last ten years twelve years and people have changed. I mean they have brought about changes in their food diet, they have brought about changes in their agricultural system. And we are not going to those areas anymore.
The experience that they have already you know, and the awareness that they have is enough actually to last for a very long time. And also, it could get transferred to their children. They're also growing cash crop, but at the same time they're also getting finger millet.
They are buying things from the market but at the same time they have their agriculture to fall back on.
ON BIODIVERSE FARMING
Biodiversity based ecological farming, mixed cropping system, done organically– They can also produce much more, not just equivalent to chemical intensive farming. This is one great disbelief that people have, the government have, is that chemical intensive farming can feed the mouths of the increasing population, and organic farming can't.
This is all wrong actually, and so many studies are there to prove it otherwise. I would not call it organic farming, but biodiversity based, ecological farming. In balance with the nature.
Because organic farming can also promote mono cropping which is happening actually.
Organic farming is just one component of biodiversity based ecological farming. When it comes to chemical intensive farming of course, the adverse impacts are quite well known, and even the government of Uttarakhand and other state governments are not promoting chemical intensive farming anymore, but they are promoting organic farming.
We are talking about biodiversity, also, you know in the farming and the ecological farming
keeping in balance you know with the ecology the surrounding ecology, which is most important.
ON ORGANIC FARMING
Organic farming can also promote mono cropping. Organic farming only talks about cropping system which is minus chemicals, minus synthetic fertilisers and pesticides.
That is one important component of the farming system that we are talking about, but we are also talking about mixed cropping system, which would take care of the health of not just the soil but also of course take care of the health of the livestock and also take care of the health of the human beings, because it will ensure availability and access to food and nutrition at all things of the year.
ON 9 CROPS

We have a practice of growing nine different kinds of crops in one single season during the rainy season. And these different crops are about Grains, Spices, Oil seeds, different pulses, all these nine different kinds of crops would grow in one single field, in one single season and it will get harvested of course at different times of the year but it will ensure availability of some food you know in the household at any time of the year.
Now the studies have also proved that both of us based ecological farming on mixed cropping system done organically will take care of not just the production but also of the health aspect.
We have the studies and we have the data that can prove, you know, that their production can be higher than the production of mono cropping. Done just next to that field.
ON NUTRITION

The amount of nutrition which is coming out of that one acre of land and it'll be much more in comparison to the mono cropping which is growing this next that the one acre of land in one year it is able to absorb two thousand pounds of carbon in a year. Where are doing mixed cropping organically. In comparison to chemical intensive farming which actually releases 300 pounds of carbon per acre, per year.
Considering the global warming which is taking place, it is very, very important to also come up with ways for mitigation; mitigating strategies are much more important and unfortunately nobody talks about it because it is connected with again you know big corporations.
It is connected again with fertiliser companies and nobody is invested in mitigation right now.
Nobody is talking about agriculture which is a very big contributor of carbon emission but can be a very important strategy to sequestrate the carbon, prevent it from emitting, and also absorb the carbon which is in the atmosphere.
Agriculture done this the mixed cropping done organically is considered to be the only way through which we can do carbon sequestration at a very fast rate.
This is in total contrast to the policies of the government which is talking about monoculture, growing only pine trees in the forest area, and also promoting mono cropping.
I think we have to have a very multi-pronged approach you know, the statistics are also important in certain areas, and case studies are equally important.
CONVINCING MEN

The village women I had been working with constantly since 2001. They already had been a witness. They had some difficulty to convince the menfolk actually at the household level.
But gradually they interacted with a mentor also and they also started coming to our meetings. We made them interact with few people who have never switched over to chemical intensive farming and make them use their experiences.
We did workshops for them. He showed them video films we showed them many educational documentaries. We took them out on educational trips to some people renowned people who have been working on saving seeds for many, many years. Made them interact with other groups also working on these issues.
We took a walk actually for five days through different parts of Uttarakhand, and they interacted the different communities they exchanged you know their experiences, they heard about their experiences, and gradually they finally got the confidence to do what all of us had been talking about.
They shifted from chemical intensive farming, to gradually organic farming and the mono cropping to mixed cropping. Surrounding villages have also actually turned, after having seen them you know after having heard their experiences, they have also gradually turned organic, and they have also gone back you know to those mixed cropping systems, through their interaction so they have become kind of leaders actually in all the.
The government of Uttarakhand declared itself organic many, many, many, many years ago but it has not created any market where farmers can actually sell it organic produce. That's a big challenge too. It's not that they have no idea. It's not that they have no awareness. They know that that middle person actually the takeaway a major chunk of profit, you know, and the farmers are not able to reach the market.
That struggle is still going on, but at the same time in parallel, there are women's federations and they are selling them now in the market to different outlets. And do value addition packaging, labelling, everything and then sell in different outlets.
This could be the government outlet as well as some other private outlets.
That is happening and that is adding to their income.
They're also catering to the urban taste you know by having single malt cake or finger millet biscuits. Over the last two three years their children have started offering this local produce.
The things that they were used to eating from outside.
I think in India we have the civil society is quite strong, and the women's groups are also very strong.
SELF AUTONOMY
To self-reliance self-confidence and self-esteem; these are all connected.
So we can't say that everything in the name of knowledge, which we have inherited, which has come down the generations. is good and very effective. Many of the things that are effective but some of the things are not very effective. Maybe because the situation has changed now, so a good amalgamation, a very balanced amalgamation of local knowledge with the new knowledge also needs to be done from time to time, now, to address people's emerging needs and requirements.
The most important thing in the amalgamation is: Who is controlling the knowledge? The point of control. It has been a gradual dependence of people on the market. Self-reliance Self Sustenance. Has. Been replaced with total dependence. And that actually has an impact on the self-confidence and self-esteem of people. When we talk of local knowledge. And the replacement of local knowledge. People lose out on this self-confidence the self-esteem and self-reliance.
You should be looking like us it could be an institution it could be a country it could be a civilization, could be a region it could be a section of community it could be market, and a particular section in the market, and it could be an advertising agency who wants you to look like people they are advertising.
We lose identity we lose address we lose the language we lose our food we lose our systems we lose our knowledge we lose their practices and we lose ourselves completely. Lose autonomy, lose autonomy, lose our freedom.
END
——————————————
Reetu Sogani would like to thank the women of Chak Dalar and Chama Chopra in the Bheerapani area, in Nainital district. The women in Talla Gehna in Nainital district. And the women in Tola area in Almora district.