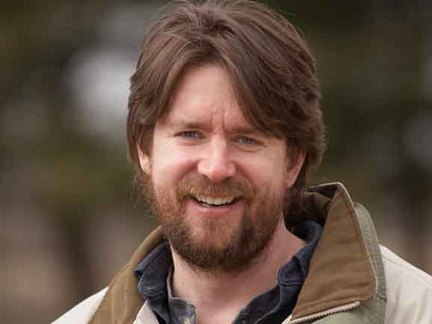 Very happy to have Tim Kasser on episode 4, ON HAPPINESS.
Tim received his Ph.D. in Psychology from the University of Rochester in 1994, and after one additional year of teaching at Montana State University, he accepted a position at Knox College in Galesburg, Illinois, where he is currently a professor of psychology.
He has authored over 100 scientific articles and book chapters on materialism, values, goals, well-being, and environmental sustainability, among other topics. His first book, The High Price of Materialism, was published in 2002 (ISBN 978-0262611978); his second book (co-edited with Allen D. Kanner), Psychology and Consumer Culture, was released in 2004. In 2009 he co-authored a book (with Tom Crompton) Meeting Environmental Challenges: The Role of Human Identity. In 2013 he wrote Lucy in the Mind of Lennon, a psychological biography that explores the meaning of John Lennon's song, Lucy in the Sky with Diamonds. Most recently, in 2018, he collaborated with the cartoonist Larry Gonick on HyperCapitalism: The modern economy, its values, and how to change them.
Since the early 2000s, Kasser has consulted with activist and civil-society organisations who work against the commercialisation of children and who work towards a more inwardly rich lifestyle than what is offered by consumerism. He lives with his wife, two sons, and assorted animals, including a donkey named Earl, in the western Illinois countryside.
TIM INTRO
So, my name is Tim Kasser. I'm Professor of Psychology at Knox College which is in Galesburg Illinois in the United States. And I've been studying people's values and goals and how they relate to well-being and ecological damage and other kinds of things for about 30 years now.
At the time that I started to move into the ecological work, I had already been doing a lot of work on people's values and goals and how they related to their own personal well-being, as well as to some social outcomes. And then a guy named Kirk Brown actually approached me and said "Well what about ecological stuff?"
And so we did a study together right around the year 2000 actually where we began to look at how people's values and goals related to ecological outcomes, so people's ecological footprints and their ecological attitudes and behaviours. That really sparked my interest and so I started to do more work in that realm.
From a psychology's perspective there's all this focus on well-being but pretty much the focus is on how happy is this person, how not depressed is that person, how you know satisfied with life is this person.
But there's relatively little comparatively about well-being involves living well in a way that doesn't damage other people's opportunity to live well and doesn't damage other species opportunities to live well and doesn't damage future generations opportunities to live well.
If we really want to understand well-being, we have to get beyond I guess what you would call the user there or what the psychologist would talk about with regard to personal well-being. And we really need to focus on social and psychological well-being as well. 1.51
One of the major things that you would hear from politicians and others was that we can't focus too much on the environment because that will decrease people's well-being because they'll have to give up X and give up y and give up Z.
And so, what we really tried to do, and we were I think the first people to do was to set out to test that idea. So, is it the case that psychological well-being and ecological well-being are incompatible, or might they actually be compatible?
And so in two studies we measured people's personal well-being so their life satisfaction their experience of pleasant and unpleasant emotions. And then we also measured their ecological footprints and their ecological attitudes and behaviours and what we found was that actually in both samples personal and ecological well-being were positively correlated. That is, happier people tended to also be living more ecologically sustainable lifestyles.
And I'd say a little bit more about that finding from the Brown Kasser study, but I want to note that two years ago I did a summary of the literature on that, and it turns out that that finding that personal well-being and ecological well-being are positively associated has now been replicated about 15 or 20 times in other samples, cross culturally, with lots of different kinds of measures of well-being, with lots of different ways of measuring environmental behaviour as well.
So, it does seem to be a rather robust relationship that Kirk and I discovered back in 2000.
The other thing that Kirk and I were interested in is what is it that allows personal and ecological well-being to be positively correlated.
What were the psychological mechanisms, if you will, which allow those two things to go in concert with each other.
We looked at three different possibilities all of which had some data to support them. So the first one which was the thing I'd been studying for quite a while was people's values and what we found was that part of why people who are happy are also living more sustainably is that they focus on values for their own personal growth and their own connection to other people and helping the world.
And they focus less on values like making a lot of money having a lot of possessions having the right image being popular. All those values and encouraged by consumer capitalism. So, one of the reasons that people can be both happy and sustainable is if their values orient them in a certain way.
The natural outcome of a focus on those intrinsic value is we call them instead of the materialistic values is to be happy in the moment, is to live more sustainably.
On Mindfulness
A variable that Kirk had been studying for some time, which is called mindfulness. And so, Kirk was one of the early people in psychology to really look at mindfulness, which is the ability to be with one's thoughts in the moment in a non-judgemental way.
And so again what we found was that people who were more mindful were also living more sustainably and happier at the same time. So, there's something about mindfulness which conduces towards both of those kinds of wellbeing outcomes.
On Lifestyle
And then the third thing we looked at was lifestyle, so probably heard of the idea of downshifting or voluntary simplicity where people decide that they're going to no longer kind of buy into the normal work and spend lifestyle but instead live a simpler life. And so, in our study we had 400 people 200 of whom were simplify hours and 200 of whom were mainstream Americans. And again, what we found was that those who were voluntary simplify hours were more likely to be both happy and to be living more sustainably.
Now that was actually the weakest of the three factors compared to mindfulness and values but it certainly did seem to matter. So that was essentially what we found and for us that's a pretty hopeful message because what it suggests is there are things people can do in their own lives their lifestyles with their values with their mental practices which can conducive towards both happiness and sustainability.
And it shows that all those messages telling us that you know we have to sacrifice and give stuff up and that's going to in order to have a sustainable world that that's actually doesn't appear to be true. 6.22
And that's one of the things we found actually was that all three of those variables we were just talking about were kind of related to each other so people who were more mindful tended to have more intrinsic values and to be less materialistic. And people who were voluntarily simplifying their lives also tended to have more intrinsic values and to be less materialistic.
There's kind of a grouping of a way of life if you will that I think kind of stems from what people think is important or what people think is not so important that can then lead us to practice our lives in certain ways to make certain choices, which have these real important consequences for people's own personal well-being, but also for how they treat other people and the planet.
On Intrinsic Values and Nature
The intrinsic values or values for things like your own personal growth for family and for helping the world be a better place. The extrinsic materialistic values are things for money, image, status. And one of the things that we've learned in the last 10 or 12 years about those values, is that they stand in a dynamic opposition with each other. They're in a kind of a tension with each other.
I've used the metaphor for a lot of years of a seesaw. You know that children's playground you know you sit on it one then goes up in the other and goes down. Well the same happens with these values. The more the people focus on those intrinsic values, the less they tend to care about the materialistic values, but the more they care about materialistic values the less they care about the intrinsic values.
So one of the things that we've done a lot over the last few years is to do studies where we activate momentarily in people's minds one or another set of values, and then we see what happens to the other values. So, if we get you thinking about money for example what the research shows is that you'll care more about money related things and image related things and you will care less about helping other people. But if we get to thinking about intrinsic values, momentarily, then you'll care about more things like the environment and helping other people, and you'll care less about things like money and status and power.
What research suggests is that an awareness of nature, probably be one way of activating those intrinsic values of building up that part of the human value system, and getting people more and more focussed on intrinsic values, which is good in and of itself, but it's also good because what it will do will be to suppress those more materialistic values, because of the way that the human value system is organised.
As you get people thinking about nature and being more and more aware and caring about nature that's going to build up the intrinsic values which will then suppress the more materialistic values.
And there's research which actually supports this. There was a study by Neta Weinstein, she exposed people to pictures of nature or pictures of manmade things human made things.
And then she measured how immersed people became in those pictures and then she measured their values afterwards and what she found was that if you gave people pictures of nature and the people became immersed in those then what happened was their intrinsic values went up and they're materialistic values went down compared to if you showed them pictures of nature and they didn't get immersed or if you showed them pictures of human made objects.
That makes perfect sense from the value research that we've done because essentially she's kind of activated those more intrinsic values which is going to suppress the more materialistic values.
On WWF Scotland research
WWF Scotland probably 10 or 12 years ago did something called I think was called the Natural Change Project.
There were a lot of different elements to that project but essentially what they did was they found a bunch of kind of leaders in the business political artistic world who didn't seem actually to care very much about it's not that they dissed nature or didn't care about nature but like their lives weren't organised around trying to improve the environment.
That's not what they were up to. That wasn't their main gig. And so for over the next six months or a year or so like that they took these individuals and they did a whole variety of deep eco psychology kinds of interventions which if memory serves culminated with a dawn to dusk so low sitting time in wild nature so people would go out and they would sit down in one spot and basically stay there until it got dark by themselves for you know 12 hours or whatever.
And you know if you read the reports that were coming out of that Natural Change Project and what you found was that as people were reflecting on what all of that experience meant to them they were starting to say it was exactly what we've just been talking about, which was that they saw that things like money and status and didn't really matter to them so much more what they really were more focussed on was things like relationships and things like promoting the community, and things like sustainability.
And then we can expect that if we've really shifted people's values that's going to have impacts later on in terms of specific behaviours that they engage in for a long, long time.
On Business
We've got to intervene with businesses. You know I think there's just no way around that. The issue of course is that if it's a publicly traded for profit business, at least here in the United States, that means that it has to place shareholder value and profit as its primary concern.
And as we just talked about with regard to the value conflicts, the more that you're focussed on profit, the less you're going to care about the environment. And so when push comes to shove, if it's about making a choice that helps the environment, or a choice that helps make profit, as long as you're on this publicly traded for profit corporation model, you're going to hit that barrier.
My recent book is called hyper capitalism the modern economy, its values and how to change them. It's a cartoon book actually, and my co-author slash illustrator is a guy named Larry Gonic. Cartoon me is the narrator.
And you know at the beginning of that chapter on business it begins with me saying you know that I used to be very dubious about changes in business you know and I'd kind of given up on that. But I think at this point
I think there's a lot of excitement in terms of what's happening in the business arena. There's a lot of interesting cool models out there about alternative ways to organise businesses so that you don't hit that barrier around profit. You know so if you look at worker co-ops if you will look at benefit corporations if you look at all kinds of other models you can start to see ways in which big organisations and product can try to focus both on profit and on things like sustainability and social justice.
On Hypercapitalism
You know I think capitalism is a particular economic system and we could talk about what it entails. But I think what's what happened after World War Two and then especially in the late 70s and early 80s in the in North America and in Europe was there was a real shift towards a more extreme form of capitalism than was in place before you know and I think that that's when you have globalisation coming in that's when you have much more pushes towards privatisation you see a huge rise in consumerism at that time because you've got kind of modern advertising coming out view all different sorts of media especially the television etc. and then you have a lot of deregulation which occurs in many of these countries as well where government steps back and says go at it business you know how to do whatever you can do to maximise economic growth. And so this fetishism of economic growth and of buying stuff and of moneymaking and profit and all the rest really began an era where I don't think we were in capitalism anymore. I think we had moved on to a more extreme version of capitalism that by putting all of these materialistic values at the forefront began to suppress even more and more and more values like equality values like caring about the environment et cetera.
And indeed it's around that time when you start to see work hours go back up you start to see indices of inequality go up you really start to see lack of movement on a lot of environmental issues etc. So. So that's how we understand hyper capitalism to a term that's been around invented by somebody else. But it definitely seems apt to start to talk about you know what is the political economic social system that we find ourselves under in much of the world at this point.
On Neoliberalism
If you take a look at neoliberalism its fundamental tenets are tenets of deregulation, privatisation, and globalisation. and that you need to have government back off you need to have things as globalised as possible in terms of production and sales, and you again need to get the government out of the law-making business as much as possible so not regulating businesses. And you need to turn over as many government functions as possible to the private sector supposedly because the private sectors motive for profit will make it more efficient and then give everybody better products and better services.
So I think, fundamentally that's the idea of neoliberalism.
You know again a lot of that emerges out of the out of the post-World War Two destruction and the Cold War the rise of the Chicago school of thought with regard to economics in particular. I think when you really see it hit home is when Reagan and Thatcher are in charge, early 80s that's when you start to see neoliberalism become dominant in lots and lots of ways. And that's when you start to then see the expansion into a hyper capitalist society.
That's the fundamental faith of neoliberalism, well you know that if you turn things over to the invisible hand of the free market and you get government out of the way then good things will happen to me that is the fundamental faith state of neoliberalism.
But I would argue it is a faith statement.
Don't get me wrong. Capitalism has been remarkably successful in doing what it sets out to do which is to provide a whole lot of products at relatively cheap prices for a whole lot of people and to create a great deal of wealth by its own terms.
Capitalism has been remarkably successful but if you care about equality or if you care about sustainability or if you care about authenticity and well-being, which are things capitalism doesn't claim to care about, by the way, then you have to really question capitalism.
And again, here's where we're back to that fundamental value dynamic. You know the more and more you focus your lives and organisations and society and political structures around maximising wealth and consumption you've activated and encouraged those extrinsic values.
And as a result, you care less and suppress those intrinsic values for things like equality and sustainability and all the rest.
If we can trust all of the data we're getting we know that things are headed down the wrong road.
And so we can either throw up our hands or we can start to develop alternative models.
Well we have to do is to start developing those alternatives and really work on them and figure them out so that we can try to prevent the bad things from happening. If that's still possible and if it's not possible then when the bad things do happen, we can say 'Hey try this, not that!'
Here is the place where I think that the Nordic nations and then the Northern European nations as well you know Denmark and the Netherlands and Germany have been real leaders, have really pushed to develop these alternative models, to develop alternative practices, to try to try to make some changes at a structural levels and in lifestyle levels, to show it's possible. And again, I would go back to where we started our conversation a while back. What's also fascinating is that those are some of the happiest nations in the world. You know so and you can argue about why that is, but that the fact remains that these nations that are moving in these more sustainable ways also in study after study, Denmark, Sweden, Norway and Finland, and the Netherlands, are oftentimes the among the happiest nations in the world.
It's actually pretty short period of time that we've been under globalisation in the scope of human history, right? it's been 40 years that's a blip in this course of history.
When people focus on intrinsic values they focus less on materialistic values they're happier they act in more pro social ways and they live in more ecologically sustainable ways.
Fundamentally at base the solution is actually fairly simple: How do we orient our personal lives our businesses our communities and our governments around intrinsic values rather than extrinsic values?
Because what all the evidence suggests is that if we can do that materialism will become less important people will be happier people will treat each other more nicely and people will treat the planet more nicely.
Now how to get from here to there is a different issue, but at least like with the thing that makes me optimistic is that there is a 'there' I can see. There is a 'there' that I can see and that I can understand and that makes sense theoretically from what I know as a psychologist. It has empirical data behind it. It actually is very consistent with almost every spiritual and philosophical tradition which has been around in the history of humanity. And there are people doing it now right. There are people who are living these ways now.
If any listener is out there who thinks these ideas are valid. I would encourage you to work at your city level first to get engaged in the city and try to change your city because I think that cities are where people live and so they. They have their experiences there and what happens at cities. If you can make something work at a city, it provides a model that you can say to another city or to a province or to the federal government 'hey but it worked here, it worked here. Let's try it at another place and try it in another place."
Working at that local level is fundamental and our best shot.
End