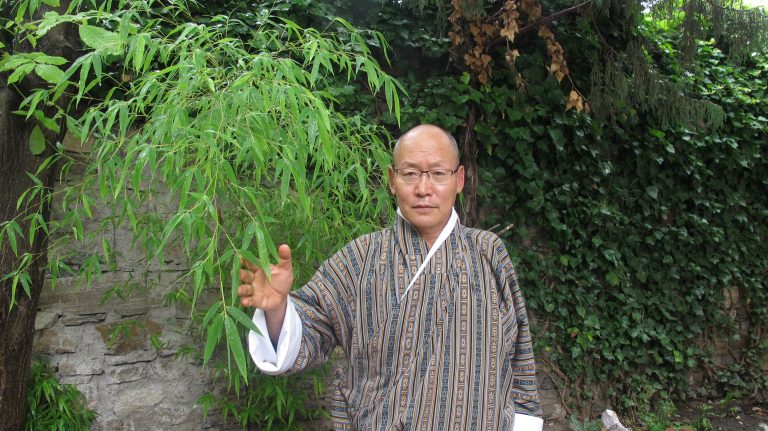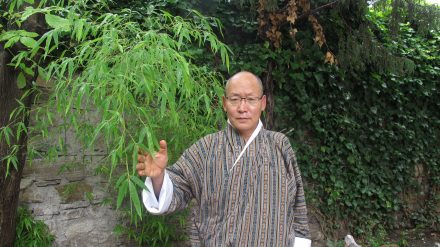 Dasho Dr. Karma Ura is the president of the Centre for Bhutan & GNH Studies located in Bhutan's capital city, Thimphu. The Centre has a mandate to research Bhutan's Gross National Happiness, Culture and History of Bhutan, and policy related studies. Gross National Happiness is a term coined by the Fourth King of Bhutan, His Majesty Jigme Singye Wangchuck, in the 1970's.
Dr. Karma Ura's career has spanned development goals, statistics and indicators, and policy applications, as well as Buddhist literature, fine arts and philosophy. As President of the Centre he also directs programs in The Library of Mind, Body and Sound, which brings together the internal and external aspects of well-being and happiness through research, individual practices and policy designs.
Karma Ura has studied to Ph.D level at St. Stephen's College Delhi, Oxford University, Edinburgh University, and Nagoya University. He has been awarded the 'Druk Khorlo,' or Wheel of Dragon Kingdom Award, by His Majesty the King of Bhutan for his contributions to literature and fine arts. Karma Ura is also active as an artist and designer; he has designed numerous artistic artefacts, performances and temple frescoes, and created a national cultural festival that is held every year on December 13th on the scenic mountain pass of Dochula. Karma Ura has shared his expertise on Gross National Happiness across the world.
Transcript Dr. Karma Ura, from Nordic By Nature Podcast ON HAPPINESS.
SOUND BRIDGE TO KARMA URA:
Karma Ura's Upbeat music. His own composition.
Intro
I am Karma Ura, and I'm presently the president of the Centre for Bhutan and Gross National Happiness Studies. It is an autonomous government sponsored think tank, and it is located in Thimpu, the capital of Bhutan.
We have mandate to conduct research on Gross National Happiness, policy background studies and culture.
My background is in economics and philosophy at the master's level, and PhD in International Development. So, all of my professional life, for some 30 years now, has been devoted to Alternative Development, its indicators and statistics on one side, and Buddhist Philosophy, Literature and Fine Arts, on the other.
Incidentally, I am also a painter and I design artefacts and performances. For example, I designed the 1000 denomination currency for Bhutan. I have painted the murals of a whole temple, and designed a national festival which is held on the 13th December every year.
On Development
The idea of development is usually introduced from outside. It is a frequently based on idea of industrialisation and an expansion of the economy.
Alternative development involves indigenous ideas about how we should transform our societies. If you have certain different ideas about transformation of society, along with different destination goals, that would qualify as alternative development.
Goal, in the context of Bhutan would be happiness of the people.
The goals of development in the case of Bhutan involves nine domains of Gross National Happiness.
Living standard is only one of the nine goals of development. The others are, Health, Education and Living standards; these are fairly well-known ones and followed everywhere else. Slightly new ones are Good Governance, Environment or Ecological Resilience, and Cultural Diversity and Resilience. So that comes to six domains. But the last three domains are on the frontier of development, and these are Psychological Well-being, Community Vitality and Balanced Time Use over 24 hours. We in Bhutan consider these 9 domains of Gross National Happiness as cause and conditions of happiness.
SOUND: 2. SINGING KIDS BHUTAN.wav
On Gross National Happiness- the background

It was first explicitly coined in 1979 by the fourth King of Bhutan, Jigme Singye Wangchuck.
For some time, GNH was realised through legislation and policies of the government, led by him. But In 2008 Bhutan became a parliamentary democracy.
Since then governments have been elected through universal franchise, as you know. Constitution was also adopted, and the constitution obliges the government to pursue a quantitative framework of Gross National Happiness, to guide politicians and bureaucrats to the long-term goals of Gross National Happiness.
In 2006, we adopted the concept of nine domains of Gross National Happiness, and along with it, we were directed by the fifth King of Bhutan to create Gross National Happiness Index. Since then we have had a quantitative framework of Gross National Happiness.
Measuring Happiness?
I think we have to be clear, when we talk about happiness, about how its measurement is laid out, what it measures, and on what the comparative ranking of the nations are based. As you know very well, the Nordic countries come on top in the ranking based on subjective well-being. We need to clarify a lot about international comparison and ranking of nations with regard to happiness. The World Happiness Report, I would like to emphasise, is based on a very narrow measurement of happiness to build international ranking.
Ours is much comprehensive and broader, much more probing about reality, and what human beings are. They need not just income. They need to simultaneously many other aspects included in the nine domains of Gross National Happiness.
In ecological terms the leadership and achievement of Bhutan is quite significant in the world.
Amongst the nine domains of Gross National Happiness, one of them is Ecological Diversity and Resilience. And government of Bhutan has been led by the leadership of the Kings to maintain a very high environmental quality, so that people's welfare, which is dependent intimately with the quality of the environment, is very high. The contributions of Bhutan to the global climate change and environment or positive vision is unusually high.
At the moment 72 percent of the surface area of Bhutan is forest covered. 52 percent of the country is preserved as protected nature. Bhutan is carbon negative. Most of its energy is supplied by hydroelectricity. So it is green energy. People in their daily life has access to nature.
I think sometimes size and scale impresses people. But the aims that are enshrined the United Nations Global Assessment Report released on 6th May 2019, are all met by Bhutan.
All its ideals, all its goals would have been met by Bhutan in the field of environment, climate change and biodiversity. But Bhutan is small to have a global impact. Nevertheless, what it does on a per capita basis is extremely outstanding.
Bhutan as a country has taken extraordinary burden for the sake of global climate and biodiversity.
SOUND: Bells and Nuns-of-bhutan.wav
Nine domains of Gross National Happiness
The nine domains of Gross National Happiness are Psychological well-being, that is emotional and spiritual aspects of wellbeing. Community Vitality: since we are social by nature, companionship and good relations are at the forefront of well-being. Time use: that means nobody should run out of time to do things that are vital to well-being and happiness. We have to have some freedom over our own time over 24 hours.
Ecological Resilience and Diversity. Cultural Diversity and Resilience. Good Governance. Education, Health and Standard of Living. So, these adds up to the nine domains. I listed them separately but in reality, they are highly interdependent.
And so, it is important to see them in relation to each other rather than in isolation.
I think they – the nine domains – are relevant to any place where there are human beings and other sentient beings.
That would take us into the question of how the indicators are constructed and how the indicators are used as benchmark in national planning in Bhutan.
Poverty is minimal definition of well-being. It is a survival definition of well-being. It's not really well-being. Happiness is a maximal concept of well-being. It is attainable and achievable.
In Bhutan you know the definition of happiness in terms of nine domains is related to measurement. We construct a single number GNH Index and 33 sub-indicators of GNH. Altogether we use about two hundred and thirty different variables to estimate the GNH index and its 33 sub-indicators. So now you can see the distinction of GNH measurement against poverty and subjective well-being. Both the latter measurements are based on a narrower measure of wellbeing.
To simplify things, if an individual were to achieve a perfect score in GNH index, he or she would have to have one hundred and thirty variables. And in these one hundred and thirty variables are drawn from nine domains of GNH.
I'm very familiar with the World Happiness Report because I am one of its council members. The United Nation's World Happiness Report, first of all, is an outcome of a Bhutanese initiative. The Government of Bhutan organised a U.N. High Level Expert Meeting in April 2012, in the United Nations, in New York. it made two recommendations at that time. One was that governments around the world should make Happiness and Well-being a focus of their public policy. That was the first recommendation. And the second one was that the United Nations should declare our World Happiness Day. So, both were implemented.
Now as a result of this high-level meeting in the United Nations, World Happiness Report came into being, led by John Helliwell and Jeffrey Sachs.
From measuring to policymaking
One of the characteristics of the GNH index, and its 33 sub indicators, is that It can be disaggregated at any level to the nth variable and nth individual. You can disaggregate the achievements across all domains, demographic variables or gender.
This enables us to then see by using GNH indicators as a sort of lens, where and whether there is a gender difference or discrepancy, or age specific discrepancies, geography specific discrepancies. Theses can be picked up so neatly by the indicators which is based on a national survey conducted every four years.
Social and economic planning is done for five years at a time, so our Gross National Happiness survey is done in fourth year and the results are fed into the five-year plan as benchmarks, targets, and policy focus areas.
We can measure by experiential outcomes such as emotions, health and happiness scores etc. or you can measure by means to happiness.
In terms of happiness, I must say that there is a gender difference in outcome. Women in this country score slightly less though it is not very significant at 95 percent confidence. However, this distinction between men and women, in the attainment of happiness, disappears above 50. The performance on the happiness scale is lower for a woman, if we if we compare women and men below the age of 50.
The important thing to appreciate is that Reproductive Health is playing a negative role.Therefore, the government, taking this finding into account is strengthening maternity and child health. It gave a long maternity leave of one year, out of which 6 months is paid. We have only seven days of paternity leave here. The relegation of domestic chores to women and the social care burden which fall traditionally on women, is one of the big problems in Bhutan.
Introduction of cooking facilities and electricity should help resolve gender discrepancy. Electricity up to 100 units is free for rural areas. Education, health, and so many other essential things, such as water supply, are also free.
SOUND BRIDGE: KARMA URA'S MUSIC

ON Gross National Happiness Business Certification
Bhutan is a country which escaped colonisation. And it's one of the very few countries in the world to have been that fortunate.
This means that the continuity of ideas of what a nation should be, or what human beings aspires have not been smashed by any external ideas.
The continuity of institutions and ideas have been able to survive in this country. Bhutan has continued to be a Buddhist and ecological welfare state.
Because of its adherence to Buddhist welfare and ecological state, free market ideas cannot take complete dominance here. And that is why, the global corporations have not been able to intrude very much.
Bhutanese foreign direct investment rules are very strict. Environmental and cultural bars are very high here.
Those who are just hunting for profit cannot find it very easy to come into Bhutan.
Last year, at the direction of the Bhutanese government the Centre for Bhutan and GNH studies developed what you call GNH business certification.
This assessment will be applied to all corporations and businesses in future.
On evolving Corporate Social Responsibility

For a long time, Corporate Social Responsibility was the end all of business. But the shortcomings in CSR is that it does not require businesses much transparency in how they should make money. It is how they dispose a certain small proportion of the profit. After CSR, a new model of business is benefit corporation or B-corp in short. But GNH business certification is much more advanced in my opinion because it applies the nine domains to the workings of corporations in a very explicit way.
GNH index and 33 indicators is designed for governance purpose. For example, derived from Gross National Happiness's nine domains is the GNH policy screening tool that the government applies to formulate and pass every policy of the government. For example, 15 policies have undergone GNH policy screening out of 22 policies so far. We will do similar assessment now to corporations by using GNH business certification.
As far as Europe is concerned, next year, in late March 2020, we will be having an international conference in Parma, Italy. One day out of three will be devoted to GNH and GNH business certification.
On limits to growth
Bhutan also has a very modest tourism policy.
Foremost for us as a society is that nothing should step beyond our environmental-ecological capacity, and our cultural carrying capacity.
Because of those concerns we limit the number of tourists. It is not to maximise profit. It is only an activity that should be consistent with the carrying capacity of the country. A large part of our country is not opened, but the Western side of the country is already receiving tourist number in excess of its carrying capacity, so we are going to slow down tourism there.
We are slowing down. A new policy will come out to slow down tourism and reduce numbers in western part of the Bhutan, in line with our infrastructure capacity, environmental capacity, and cultural capacity. For example, if a Buddhist festival in a village can take only a hundred tourists, we should limit tourists to 100; the input and output in any sector should be limited to the amount of throughput which you can digest. For example,
if the environment cannot digest then we should put a threshold on the number.
On the spectrum of values

The idea of sustainability is really linked to idea of threshold.
We have to have a certain limit in the size of activity, the size of industry, or the size of the sector. We should not let it balloon out of ecological context. Any industry – let us say, food industry or fashion industry can expand and swallow up the whole non-market areas. We should put a distinction between what is good to put on the market and what should be left out of the market.
Many things about culture should be under 'non market.' A lot of things about happiness and well-being is dependent on non-market exchange. Not market exchange. 
The reciprocity of time to give social and emotional support, cultural work and social work have a huge value on their own, they do not need to have market exchange value.
The whole sphere of culture and community should be under that kind of non-market relations. Reciprocity rather than transactions in the market. The psychological well-being domain is equally important now with the plague of mental health problems around the world. We need to devise ways in terms of indicators to check on the level of positive emotions across the population, like compassion, generosity, calmness, forgiveness contentment or conversely, we need measure the distribution of negative things like anger, jealousy, fear, sadness. We need to know more about them, because people may be seething with negative emotions although it is not showing up in the GDP.
Politicians will only use hidden negative emotions as another weapon in their hands for polarising the population. Governments need to know the interior world of the citizens – how they feel across the spectrum of negative and positive emotions.
An advance warning mechanism should be found to know the emotional state of the people. If you do not, then the only way to express these latent things will be to vote, which will be seized by polarising politicians. That is not healthy. Before it lands in the lap of radicalising politicians — scientists, psychiatrists, social scientists need to know. Planners need to know so that we can address them.
On Urban Happiness Framework

At this moment we are almost at the end of developing an Urban Happiness framework.
The Probability of being happy or unhappy Is so hugely influenced by whether we live now in urban cities or rural areas.
We have decided to work on urban happiness framework because in the four domains of GNH like psychological wellbeing, culture, ecology and community vitality, we find that urban residents lag behind the rural. They are surging ahead in terms of two domains living standard and education.
Division is emerging in the country between those who live in rural areas and in urban areas. Now we want to reduce this gap. We can assess the current state of city planning, and we can also guide city planning through urban happiness framework. The detail arrangement of the urban planning that is sensitive to well-being and happiness has become urgent, really urgent. It's a structural issue.
END

CREDITS:
SOUND: KARMA URA'S MUSIC
Tanya Voice:
Thank you for listening to this episode of Nordic By Nature, ON HAPPINESS. You can find more info on our guests and a transcript of this podcast on imaginarylife.net/podcast
We are also on Patreon if you would like to support us with a donation to keep this podcast going into a second series! See www.patreon.com/nordicbynature
The music and sound has been designed by Diego Losa. You can find him on diegolosa.blogspot.com The music you heard with Dr. Karma Ura's voice was composed by Karma Ura himself.
If you are interested in nature-centred mindfulness please see foundnature.org to read about the Foundation for the Contemplation of Nature. You can follow the Foundation on Facebook, and on Contemplation of Nature on Instagram.
We'd love to hear your thoughts on our podcast. Please email me, Tanya, on nordicbynature@gmail.com
END