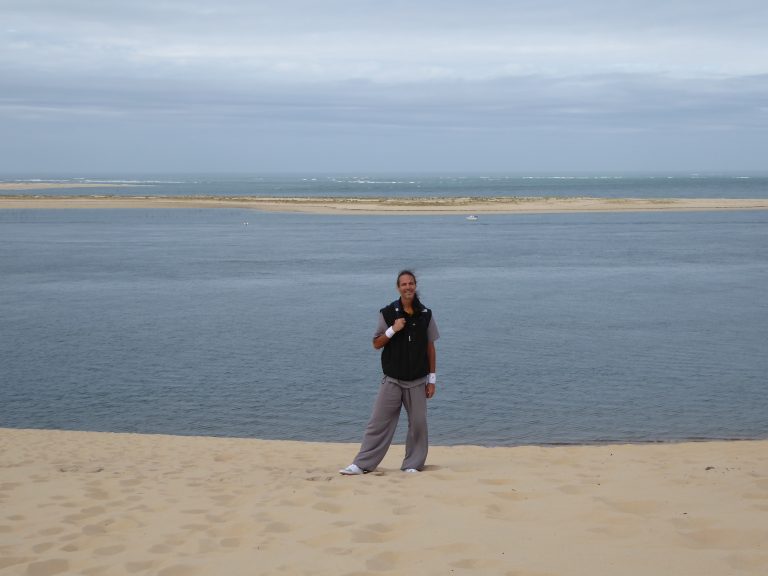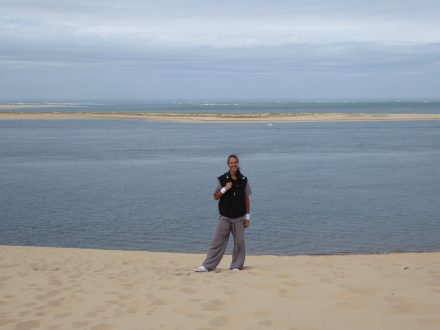 Christoph Eberhard is a bilingual Austrian living in France; a specialist in the anthropology of law and author of the book Human Rights and Intercultural dialogue. Eberhard is also a TaiChi and QiGong Teacher. He says he is on a journey of peace, and that means dialogue: dialogue with oneself, with others, with our environment and the greater beyond. His motto is "Life is not a void to be filled. It is a world of abundance, or "plenitude," waiting to be discovered."
You can find Christoph Eberhard's through his youtube channel, Dialogues for Change or Twitter, @PeaceDialogues.
Transcript, Christoph Eberhard, ON INNER RESILIENCE
I'm Christopher Eberhard… I'm Austrian. Now, I'm based in the South of France, Archachon.
To put it in a nutshell like my whole life has been devoted to, um, I would say a quest for peace, or harmony; a living harmony.
So, it manifested on the one hand, let's say more social sciences. I had a career as a legal anthropologist, between Law and Social Sciences, trying to see how we could live together in a more dialogical way, understanding each other and harmonising each other a bit better.
And then the second aspect was like dialogue with inner dialogue and with nature and that especially expressed itself in my interest with the traditional arts especially the Chinese Internal arts and Indian arts like yoga.
For me like this inner resilience would be in this question of dialogue.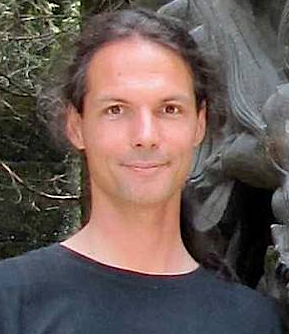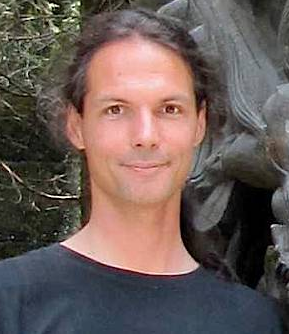 Dialogue is listening but it's not only listening with your ears it's listening with your heart. And even more than that is listening with your soul. We can experience that in our very, very day to day experience it's just like taking some time not starting to speak immediately taking five minutes or 10 minutes just to harmonise, before doing something.
Just letting the mind settle, being rooted in a certain way.
Sometimes people don't want to do it, they say they don't have time to do it, but actually just this sitting quietly, calmly, in a certain way completely changes the whole atmosphere.
And if you do it, you would find that people are much, much, more open to real dialogues, to listening to each other, to really sharing their experiences, than if you do it without that quiet time at the beginning. So, you start to dialogue with another human being. Really dialogue, in the sense that you really wanted to listen to that person, and you, you let yourself be challenged, by maybe the world view that he presents or the sensitivity that he's expressing.
While it may on the one hand be enriching, but sometimes it may be very shocking. You know. We, we may not really want to hear certain things, or we do not really hear certain things until we have heard them back a hundred times and then suddenly you're like "Oh wow. There was something deeper than I thought."
So when this happens it's, it's a kind of a challenge, also, some that leads to a second kind of dialogue which is the dialogue with which I call with 'oneself;' you start to become aware of what our, let's call it invisible horizon of action and living things.
And for that actually we need the dialogue with others, because otherwise we can never become aware of our own personal window. And then when you start to deepen this dialogue with others and yourself by listening more to yourself. You also start to realise that actually you are connected to the nature all around you.
That in a certain way, once the sensitivity to listening has been opened up, well, you start to listen to the trees to the sun then the flowers to the to the clouds, in a certain way they talk to you.
If you want to listen, first you have to empty yourself, and then everything come and talks to you. The dialogical aspect of nature which starts to unfold. So, it's a dialogue with oneself, with the others with the nature. And then there's this other dimension which I call like beyond, whatever you want to call it, you know, these things which are beyond words and you cannot really express it, but which is also there.
Sometimes, when we talk about inner, we kind of separated or distinguish it from outer. For me, I would rather say that the experience of also entering in yourself, or entering in dialogue with nature or with the beyond, is more a process of creating links, where there was more links you may have had an idea of a feeling of separation, you know, you're feeling separate from the others, and you're feeling separate from nature.
Nature is more objects which are outside; the second world of objects. It's not living reality. Even some people… who just see them like objects and some robots which there, which behave in a certain way, but they're not really persons that we interact with.
And the same thing with ourselves, and we may even ourselves not really…. We do our work. We do our things when our routines. But are we really considering ourselves as another living subject, as such.
There's four dimensions —and you can start from any of these dimensions.
If you're somebody who has been growing up in a very natural surrounding, maybe your first dialogue starts with nature. Some people they're shepherds and they spend lots of time alone for months in the mountains. So probably for them the first kind of dialogue which would start is more like a dialogue with nature, and then the dialogues may come.
For people like me and more like a city person. And so, it's more confronted with people at the beginning, you know. But the important point is to say that for me all these dimensions are always there. At the moment when we start to open one of these dimensions, dialogue of one of these dimensions, little by little we start to realise how everything is much, much, much more linked together than we ever expected.
Life is not the void to be filled, it is a plenitude to be discovered. The 'other' is not the void to be filled. It's a plenitude to be discovered.
It's not just it's always easy to go someone see what they don't have is they don't have that they don't have that they don't have that, and just construct them like the inferior version of yourself, but they can do the same thing, because from their point of view, you don't have this and don't have that and don't have that and so on.
Wouldn't it be more interesting, instead of trying to fill the other with your own projections, and your own ideas, to just listen, open up and then maybe discover all the plenitude the 'other' is. I just started to realise that our lives generally speaking sometimes very often a void to be filled.
You know, we, feel that we have to have a certain social status and we feel that we have to on a psychological level we want to achieve certain things and economical level, which is wonderful, as long as it is not something we just do because we need to fill our lives, and at the moment that we dare to maybe step back a little we may just find out that life is actually very rich and well these things may be happening without us trying to push too hard.  Plenitude means you start to realise all the relationships that you, you are knotting together, through your being.
Just like you have a physical body, considering like a modern western science, we are actually really children of the stars. I mean that is …all the elements that we made of are made in the stars, so we have actually a relationship with them.
So, we have this physiological level, but then we have our emotions, we have our feelings, we have our thoughts; in all these different dimensions are all interlinked.
By the contemplation of outside nature, which we perceive as being outside, we actually establish a relationship, one which on the outside level may lead us to this feeling that we that we should not care for the environment because it's our duty, but because of its beauty. And so, we establish that relationship with the outside nature.
But at the same time, contemplating the outside nature also actually refers us back to our inside nature. You can use the term ecological, but I would just say our, inner nature. What life is about. (laugh)
You are part of nature.
When I say nature, you know there's nature, and nature there's the visible nature that we see. And then there's nature in the sense of let's call what is the whole planet. And the solar system and the galaxies, and now they are talking about multiverses — all this is part of this other broader concept.
It really links, creating links where we didn't see links, links where there was separation, little by little to see that things are so much linked, which is very important in the ecological thinking, you start to enter into this more holistic approaches to things because you realise you cannot just cut things into pieces, they're always related and whenever you change something, someone always has an effect on the whole.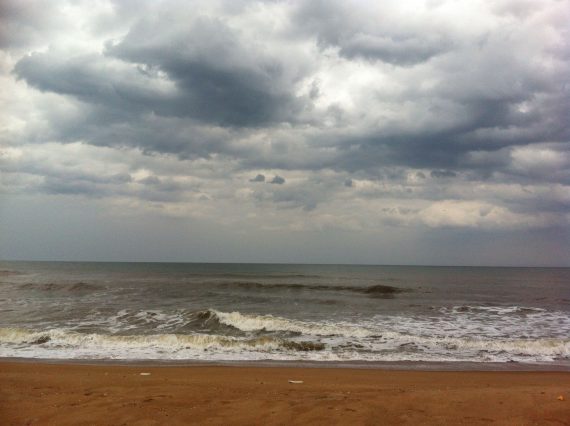 If you start practicing any Qi Gong, if you start practicing any movement, which you will do with the relaxed body, tasting what you're doing, maybe doing it slowly, and doing it with awareness. Little by little what you will start to feel is what the Chinese often call Qi which is energy.
Again which is experiential, the one feeling that you may have at the beginning, is you will feel some tingling in the fingers or you may feel some warmth that will come, and then if you continue at some point you may feel it more inside, kind of a magnetic feeling. Sometimes you get somewhat like electric feel to it, just the quiet sitting and watching your breath…. Actually, even if you just do this but like you do it every day, and you do it for a couple of hours every day, and so on and so on– at the beginning you are very much in the psychological state. You're just thinking of this and thinking of that.
And then at the moment, when these things start to settle a little –you like a glass, water and mixed and then it settles and becomes more clear and more transparent. When that stage starts to happen, things start to circulate in your body, that's like basically what is the whole Qi.
These things are very real.
So that brings me to the reaction to the experience. The culture we live in, now I'm talking well, city culture, you know like a technological society. It blunts us to a lot of our experiences.
If you live in nature, and you have to live to survive in with nature. Your senses are much much more refined than the kind of senses that we may have like you know living in the cities. So in a certain way we again we colonised our minds and even now I still realise how much my mind is colonised
Very, very, big learning process also…..because you start to realise I do have an innate intelligence, my body does understand certain things, OK. You have to put the awareness. It's not that you don't have to do anything. You have to put the awareness. You have to try to listen. You have to practice. It's not just coming like if you don't do anything. And once you know little by little to learn, to make the difference between what is your illusions, and what things are real, in those what you feel.
We are not gods, we are not the masters of nature, or the kings of nature, no we are just a part of it, a very humble tiny part it.
Humility, the importance of humility.
You recognise yourself as a wonder of the universe. It's amazing. And the more humble you become, in a certain way, the more beautiful the whole thing becomes.
END