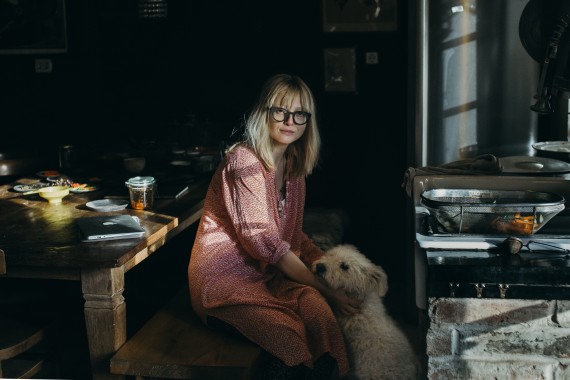 Designing 'The Good Life'
Many of us dream of quitting our jobs and leaving the city, but how many of us manage to do it? I asked Innovation Strategist, Karina Vissonova, how she and her partner Aron designed 'the good life.'
Q: What was your childhood like?
A: I grew up in Latvia. I played in our family vegetable garden since I could walk, and was outdoors all year round. As a teenager in Riga, I spent every free minute with my friends making fires on the beach or partying in the forest.
Q: Why did you move away?
A: I studied in Copenhagen and was recruited right away into a job in innovation, that was still a relatively new field at the time. I got to work with some amazing professionals – architects, designers, and thought leaders. It was like working with rock stars! But Copenhagen was never really 'my town,' despite all the 'goodies' that came with life in the city. It felt like my lifestyle was bought, somehow.
Q: How did your job evolve your thinking?
A: I found it challenging to accept that so many great ideas, which would truly help people to live a better and more sustainable everyday life, would get chiselled down to fit into existing production systems. It's as if we design for machines rather than people. We have all the technologies we need, but we have heavy, outdated systems that are resistant to change. I started wondering what else I could do.
Q: So you decided to leave your job?
A: Not immediately, but I knew I needed to change my own path. I wanted to be able to seek answers to the 'big' questions. Eventually Aron and I decided to make the leap and move to the countryside in Hungary. Aron is half Hungarian, but it wasn't particularly about living in Hungary, it was about pursuing a quality of life with less, and rediscovering ourselves without a professional identity tag. We moved in the middle of winter, without TV or internet. It was the most silent 3 months of my life!
Q: How did you cope with that silence?
A: Just by giving it a chance. We missed our friends, but we were also in love with our new home on the hill. In the Spring, I started gardening. Portuguese friends had told me about permaculture, and so I spent hours on YouTube learning everything I could. My first garden was a mandala garden; a beautiful, unruly patch. I was the laughing stock of the neighbourhood at first, but when my neighbours saw how my garden was flourishing, even during periods of drought, they switched to permaculture methods. I also practice companion planting, where you pair plants that can support each other with nutrition and healthy insect populations; my strawberries grew together with spinach, for example. It's pretty in its own wild way.
Q: So your food brand evolved almost by accident?
A: Yes! Suddenly we had all this surplus produce so we started making condiments to sell at the farmer's market. We made our own labels and suddenly we had a brand!
Q: What came next?
A: One day, Aron announced, "Do you realise we are living in one of the world's very famous wine growing volcanic regions? We should make wine!" My response was a hesitant 'OK…' Aron went to work for a local wine maker, to learn the ropes. A year later, Aron made his first wine, a ruby coloured Pinot Noir. We made 300 bottles. It was excellent. We couldn't believe it. It was like we had the volcano gods on our side!
Q: And it's organic?
A: The wine is organic, yes, and with a low sulphite content, but for us it's not about labelling our product as 'organic' or getting expensive certifications, it's just about being true to the traditional, artisanal wine-making methods. We want to make the most honest and highest quality wine we can, while caring for the land. Many of the new wine makers here follow regenerative farming methods – it's far less costly and far more effective.
Q: When did you decide to open the restaurant?
A: Our wines became commercially successful within 2 years, and our garden was abundant. It was a natural progression to pursue Aron's dream of having a small restaurant. He is an exceptional chef, albeit with no formal training. Aron had learnt to cook regional dishes, in Tamil Nadu, in the south of India, and in Himachal Pradesh, up in the North, in the foothills of the Himalayas. This influenced our concept – Indian, Middle Eastern and Mediterranean vegetarian tapas-sized dishes served with  local wines . We just offered our own home cooking. We opened for guests last summer and it turned to be the busiest summer of our lives!
Q: How does your life today compare with life in the city?
A: Countryside offers an unveiled life, a connection to oneself and the systems that let you survive. Leo Tolstoy wrote about the division of intellectual and physical labour, and the need to experience both to acquire true wisdom. I couldn't agree more. I scribble away about sustainability, but I feel that it is the experience of working the land and being part of a community that entitles me to write about sustainability.
Q: What are your plans now?
A: I want to continue writing and consulting. I still have more questions than I have answers, and I get the feeling others do too. But we need to ask the right questions. If I can attend to the vineyards and the garden during the season, run our little home restaurant, and write for the rest of the time, I will be a very happy and lucky person.
Q: Any advice to someone wanting to make a total change in their lives?
A: Dream! Plan big and trust your intuition. Life is unpredictable but it's also full of opportunities. You just need to have the courage to believe in yourself.
These days, we have a false sense of security because of social transparency, where events and emotions that used to be very private are always on a display on social media. We have an impression that we are emotionally connected to other people, which also gives the false impression of a safety net. I find that such a net, if it indeed exists, is very thin.
Despite social media, we are more dependent on relationships in our physical communities than we realise – and the support that they can provide. Nurture real connections. Value where the things in your life come from and go to. When taking a life changing step, make sure your ties are offline as much as online.
Images: Alexandra Heim and otherwise, Karina's own.
Links
Karina's design and innovation consultancy https://www.vissonova.com/
The restaurant Pap Wines https://www.papwines.com/
https://www.facebook.com/PAPwines/
https://www.instagram.com/papwines/
Photographer Alexandra Heim www.heima.hu