The Prince of Assyria's imaginarylife
imaginarylife is proud to be working with Prince of Assyria, and a new approach to music distribution that we call "music by merit, not marketing."
Our Stockholm/Berlin based singer-songwriter is launching his new 2009 album Missing Note independently, collaborating with imaginarylife, after turning down deals with major record labels EMI and Universal.
The tracks will be spread for free through private networks, on and offline. Each song is connected to an artist who enriches the total album experience with a unique interpretation of one of the tracks.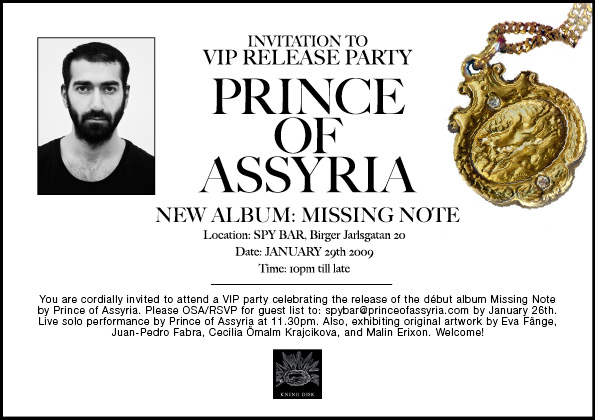 Prince of Assyria – The music.
Prince of Assyria's début single What Ever You Want is already available as a download but is now set to become a much sought-after item on vinyl, with this highly limited edition seven-inch release. Issued by the Kning Disk label (sic), it subtly presents the different strengths of Dankha's songwriting capabilities. The first promo single is a moving introduction to the new 2009 album Missing Note.
It's fitting for someone who embodies such contradictions that the début track Whatever you want is at times both understated and deliciously ornate. For those of you who savoured this track, the new album will be no disappointment. Dankha's composition mines a rich seam of melancholy which is reminiscent of Leonard Cohen, Nick Drake and Bill Callahan, pleading for another chance while he hunches over a guitar, and abandons all restraint in evocative choruses that etch themselves into your memory. The simple acoustic setting is perfect for his sonorous tones and intelligent lyrics, complementing the album's sombre, yet joyfully uplifting and lyrical feel.
There's a sudden shift of emphasis in the soaring chorus of his songs, building from low-key melancholy to something that provides an even weightier emotional punch, and proves that he has an uncanny grasp of soaring melodrama too. Soaked in maudlin strings (Prince of Assyria is sometimes accompanied by a violin and cello duo) the wringing of gently acceptant sadness emerges from deeply personal lyrical motifs, that we can all identify with: poignant and intelligent lyrics stay with you for days as you find yourself remembering phrases such as "Love is not negotiable" from the epic love song Tears of Joy that is set to become an instant classic. The lightness of touch in all the chorus melodies make the otherwise heavy-hearted atmosphere more than palatable- it is positively addictive.
Prince of Assyria is certain to be a prized and played possession in many music collections, sitting along side other New Swedish favourites such as José Gonzales or Ane Brun.